I love trying out new products and I love buying makeup. I came across this foundation and decided I needed to purchase it and review!  Bare Minerals is mostly known for their powder foundations that to be honest I have not been a fan of in the past. When I saw a liquid foundation I was instantly drawn to it. It comes in 30 shades so I truly feel like almost everyone would be able to find their shade. It states that this foundation is good for the skin and that its supposed to offer a matte and full coverage application for 24 hours. I will show you how I look before makeup and with the foundation on so that you can see the kind of coverage it provides. I will be applying it with my beauty blender.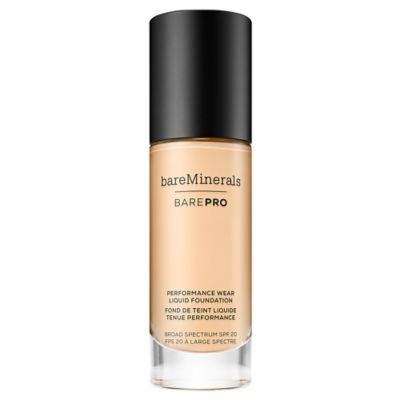 BAREPRO Performance Wear Liquid Foundation SPF 20 $34.99
So this is how I look without makeup! I have pretty decent skin other than the occasional breakout on my chin area. This is after I had done my complete skin care routine and applied my face primer.
This is a scary picture but half of my face has the foundation and the other half has none and as you can see the difference is huge!
So I applied all the foundation and my first impression is that it's very matte! I have combination skin and do have some dry patches and I noticed that it wasn't clinging to any of them. It doesn't emphasize pores either and it's very lightweight.
So after finishing up my whole makeup application I have to say I truly love this foundation it gives my skin a lightweight feel and it makes my skin feel airbrushed. I think that the price is very reasonable as well especially since it is considered a "high-end brand". I am very impressed by Bare Minerals and feel like they have really stepped up their make up game! I will leave below all my makeup details. If you would like me to review another foundation let me know suggestions below!
Makeup Details:
Powder: SEPHORA COLLECTION MicroSmooth Baked Foundation Face Powder
Eyeshadow: TARTE Foil Finger Paints Shadow Palette – Rainforest of the Sea Collection I love using this on the lid and this one my crease MAC Beige/brown Eyeshadow – Soft Brown (M)
.
Blush:  MAC Powder Blush – Margin (F)
Highlighter:Smashbox Spotlight Palette – Pearl
Lips: BITE BEAUTY Agave Lip Mask This is a must buy!!!!
Mascara:L'Oréal Paris Voluminous Lash Paradise Washable Mascara, Blackest Black, 0.28 fl. oz.
Eyebrows:Anastasia Beverly Hills Dipbrow Pomade Waterproof Brow Color – Chocolate
Bronzer: bareMinerals Invisible Bronze Powder Bronzer
Please see Disclosure Statement